CCOA Presiding Bishop, Mark Elliott Newman wed Ryan Gallo Obado
at a Dignity Worship Service in Phoenix on September 17, 2016.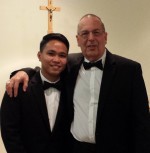 Congratulations, +Mark and Ryan!
The rite of marriage was officiated by a minister from the Church of Religious Science, and the Eucharist was celebrated by a CCOA priest. Because the late ABp. Herman Spruit, the founder of CCOA, was very involved with both of these ministeries, he must have been sending his blessings to the happy couple!