As well as the ordination, we had other opportunities to worship together.
Each day began with Morning Prayer and Ended with Evening Prayer.
A Chrism Mass, with Renewal of Vows, was also held.
MORNING AND EVENING PRAYER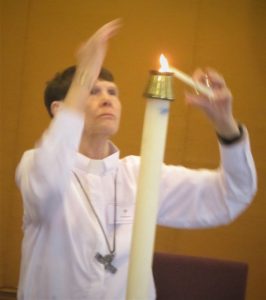 Rev. Elizabeth English lights the candle for prayer. Rev. Elizabeth joined us for convocation and invited us to participate in her research about the Independent Sacramental Movement.
CHRISM MASS, with RENEWAL OF VOWS
Bishop Theodore leading us in song.
Deacon Richard, Presiding Bishop Mark, and Bishop Linda during the service.
Bishop Leonard, preaching.
Sean, Rev. Elizabeth, and Brother Dick+, and Mary+,
bringing the elements and oils to the altar.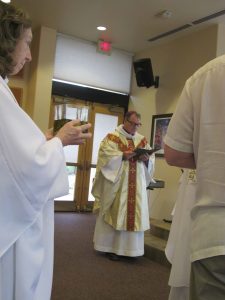 Bishop Michael, serving as Master of Ceremonies.
Presiding Bishop Mark, starting the blessings.